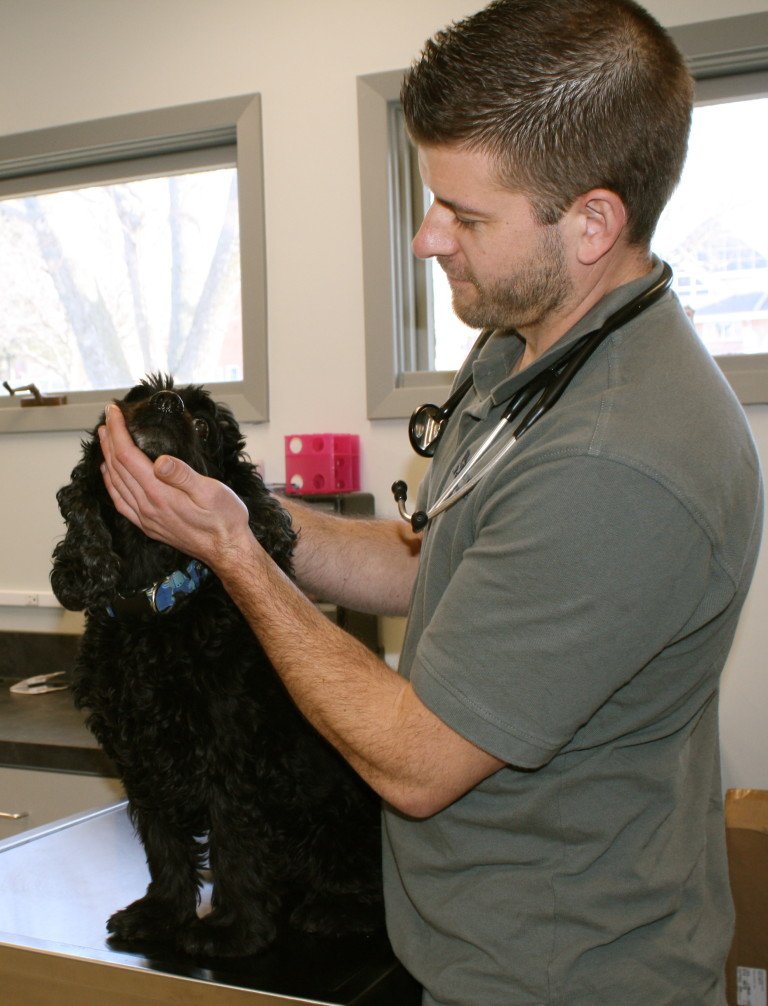 Fred Petersen, DVM
Dr. Petersen is a Nebraska native, originally from Lincoln. He obtained his doctorate in veterinary medicine from Iowa State in 2009. After graduating he practiced in South Dakota for three years prior to moving back to Nebraska. His veterinary special interests include internal medicine, dermatology, and immunology. Dr. Petersen enjoys spending time outdoors, hiking, and reading. Most of his time outside of work is spent with his wife Nichole and their three children Olive, Ellie, and Albert. The Petersens have three dogs, Bella, Lucy, and Henry.
Dr. Petersen in an incredible veterinarian that both Lucy and Murphy are fortunate to receive care from. He has a very calm demeanor that comforts both my dogs and instantly puts them at ease in one of their least favorite environments. He is very patient and willing to address all of my questions during visits. His empathetic and personable character, coupled with his thorough attention to detail are the reasons I continue to seek his care for my dogs. Any pet owner is lucky to have their pet receive care from Dr. Petersen.

Katelyn M.
This place is awesome. My former vet had retired and I was looking for a new place to go. This was in the neighborhood and when I had a sudden need to take my cat in, they were able to fit her in on very short notice. They listened to my concerns, were very gentle with my not exactly social cat and did their best to take care of her. They were also very reasonably priced. I've found my new family vet and will definitely recommend them to anyone I come in contact with.

Angela C.
Dr. Fred and staff at Westgate Animal Clinic are terrific animal healthcare providers! Dr. Fred took time explaining my pooch's problem and the surgical procedure, and he consulted with others to determine the best surgical approach. He did a great job with the surgery and followed up next day. Staff at the clinic are passionate about caring for animals and their humans! I highly recommend this clinic.

Jodi W.
Crystal Rhine, DVM
Dr. Rhine has lived in Nebraska since she was three years old, leaving only long enough to graduate with her doctorate in veterinary medicine in 2009 from Kansas State University. She has been practicing in Nebraska ever since. Dr. Rhine joined the practice in July of 2019, and has an interest in surgery, dentistry, and internal medicine. She enjoys painting and crafting as well as spending time with her husband Mark and their three kids Amelia, Alex, and Winston. They have 3 cats Gingerbread, Woody, and Linus, and a dog named Poky.
Dr. Amy Grant, DVM
Dr. Grant was born and raised in Omaha, She graduated from Kansas State University in 2003. She has practiced small animal medicine in Bellevue for 17 years, with a special interest in feline medicine. She enjoys family time with her husband Matt and children Abby & Brandt. She loves a good board game, and the 3 family cats "Squidward", "Secret Agent Randy Beans" and "Chief Terry McConky".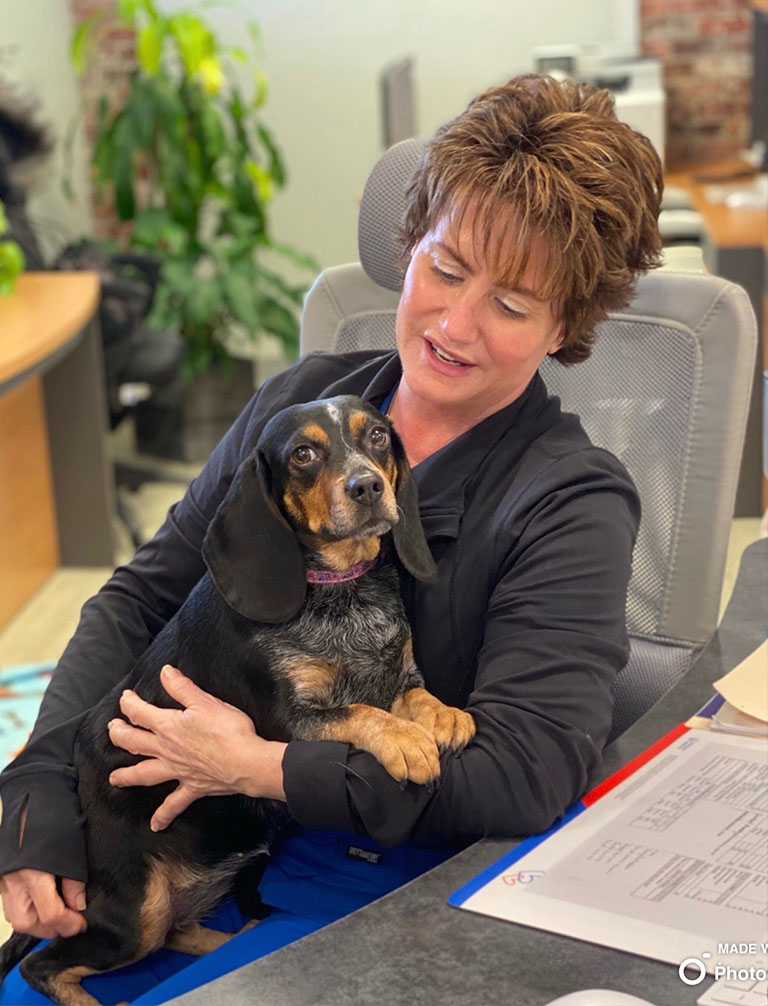 Lyn
Lead Client Coordinator
Lyn is our Lead Client Coordinator at Westgate Animal Clinic. She is originally from Houston, TX and graduated from North Texas University. When she is away from the clinic Lyn enjoys being outdoors, gardening, and working out. She is married and has 3 girls, 2 Frenchies (Norman and Eleanor), and 3 cats (Archie, Moxie, and Tye).
Alixe
Veterinary Technician
Alixe is a veterinary technician here at Westgate Animal Clinic. She is a military child and now calls Nebraska home. She graduated from Iowa Western in 2016. Alixe enjoys reading, traveling, and spending time with her family. She and her husband, Joe, have 2 cats (Castiel and Lagertha).
Amanda
Veterinary Technician
Amanda is from Papillion, NE and graduated from Iowa Western in 2016 with an Associates in Applied Science. She loves communicating with clients and has an interest in surgeries here at the Clinic. In her free time, Amanda enjoys camping, fishing, and being with family. Her family consists of her husband, Ryan, their son, Colton, and a Border Collie named Ewen.
Margaret
Veterinary Technician
Margaret is originally from Lincoln, NE and got her Associates in Applied Science Veterinary Technology from Northeast Community College in Norfolk, NE. She is a Disney fanatic and a diehard Husker football fan. She is married and has 2 pets, Minnie and Charlie.
Sarah
Veterinary Technician
Sarah is originally from Omaha, NE and graduated in 2001 before joining us at Westgate Animal Clinic. She enjoys cooking and baking, crafts, being outdoors, and dancing. She is married and has 3 girls and 1 boy (Shelby, Avery, Allison, and Cole) and 2 dogs (Skylar, a Puggle, and Amber, a Beagle Mix)).
Kyla
Veterinary Technician
Kyla is a Tech Assistant from Red Oak, IA. She graduated from Vet Tech School in May 2021. She enjoys going on walking trails with her dogs, which include Presely (Blue Heeler), Oliver (Newfoundland), and Roscoe (Pug).
Bre
Veterinary Technician
Bre is native to Omaha and went to Iowa Western. Her special interests in the veterinary field include dentistry, clinical pathology, and surgery. When she is not helping animals, she enjoys traveling, spending time with her niece, and doing outdoor activities such as golf. Her furry family includes Josie Bear, a Maltese & Shih Tzu mix, and Abby, an Australian & Lab mix.
Kelani
Tech Assistant
Kelani is a Tech Assistant from Omaha, NE. She is currently in school studying Biology and will hopefully go on to vet school after. In her free time, Kelani enjoys being in nature, hiking, camping, running, painting, and reading. She has 2 pets, which include Alice (DSH), and Zen.
Elaine
Receptionist
Elaine is a Receptionist originally from Ohio and has lived in Bellevue since 1987. Her background includes working for the U.S. Airforce as an Aircraft Electrician. In her free time, Elaine enjoys reading, crossword puzzles, jigsaw puzzles, and cross-stitch. She loves spending time with her husband Chuck and three children, and the family cat, Tommy.
Jolie
Receptionist, and Assistant
Jolie is a Receptionist, and Assistant from Omaha, NE. She is currently in school at the University of Nebraska – Omaha pursuing a career in Veterinarian Medicine. In her free time, Jolie enjoys spending time outdoors, reading, traveling, and spending time with her friends and family. She adores her dog Boomer (Boxer).
Jennifer
Receptionist, and Assistant
Jennifer is a Receptionist, and Assistant from Papillion, NE. She attended Winward Community College in Kaneohe, HI earning her certificate of achievement in Veterinary Assisting in 2015. In her free time, Jennifer enjoys hiking, reading, interior design, baking, traveling, and hanging out with her friends and family. She loves her Siberian Husky "Kona" and Blood Python "Murphy".
Camille
Receptionist
Camille is a Receptionist from Omaha, NE. She is currently in school working towards a Bachelors's degree in Biology with a minor in Environmental Sciences. In her free time, Camille enjoys the arts; painting, photography, and dance. She has 5 pets total, 3 tuxedo cats named Roxy, Luna, and Mingus, two budgies Felix and Lola.