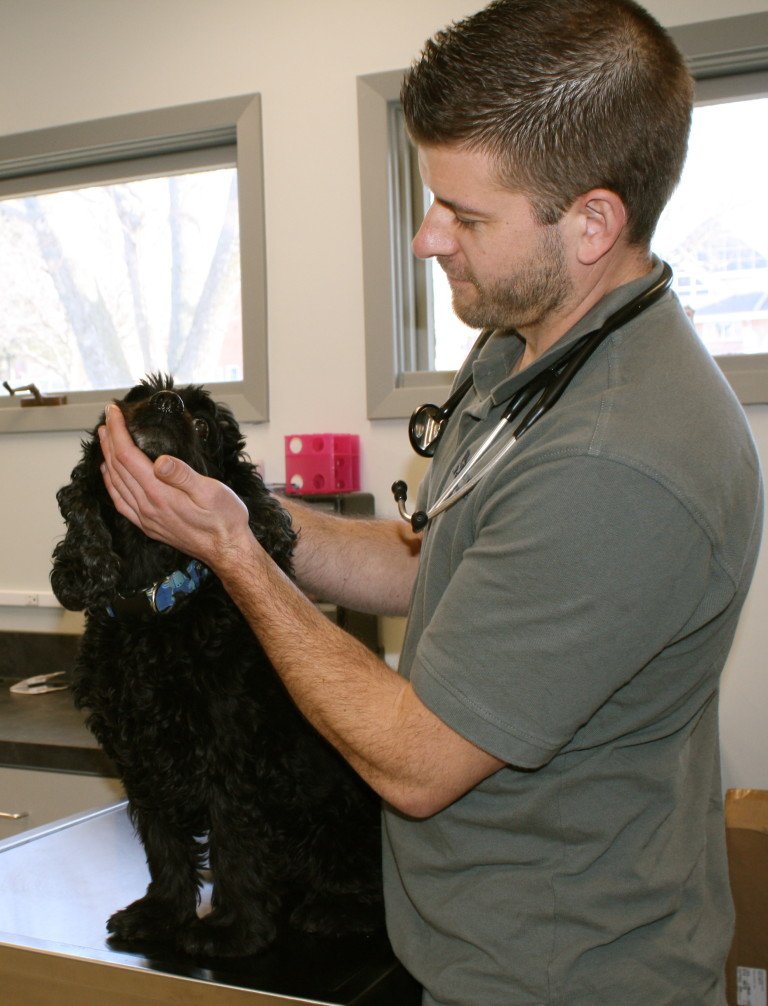 Fred Petersen, DVM
Dr. Petersen is a Nebraska native, originally from Lincoln. He obtained his doctorate in veterinary medicine from Iowa State in 2009. After graduating he practiced in South Dakota for three years prior to moving back to Nebraska. His veterinary special interests include internal medicine, dermatology, and immunology. Dr. Petersen enjoys spending time outdoors, hiking, and reading. Most of his time outside of work is spent with his wife Nichole and their three children Olive, Ellie, and Albert. The Petersens have three dogs, Bella, Mabel, and Henry.
Dr. Petersen in an incredible veterinarian that both Lucy and Murphy are fortunate to receive care from. He has a very calm demeanor that comforts both my dogs and instantly puts them at ease in one of their least favorite environments. He is very patient and willing to address all of my questions during visits. His empathetic and personable character, coupled with his thorough attention to detail are the reasons I continue to seek his care for my dogs. Any pet owner is lucky to have their pet receive care from Dr. Petersen.

Katelyn M.
This place is awesome. My former vet had retired and I was looking for a new place to go. This was in the neighborhood and when I had a sudden need to take my cat in, they were able to fit her in on very short notice. They listened to my concerns, were very gentle with my not exactly social cat and did their best to take care of her. They were also very reasonably priced. I've found my new family vet and will definitely recommend them to anyone I come in contact with.

Angela C.
Dr. Fred and staff at Westgate Animal Clinic are terrific animal healthcare providers! Dr. Fred took time explaining my pooch's problem and the surgical procedure, and he consulted with others to determine the best surgical approach. He did a great job with the surgery and followed up next day. Staff at the clinic are passionate about caring for animals and their humans! I highly recommend this clinic.

Jodi W.
Dr. Amy Grant, DVM
Dr. Grant was born and raised in Omaha, She graduated from Kansas State University in 2003. She has practiced small animal medicine in Bellevue for 17 years, with a special interest in feline medicine. She enjoys family time with her husband Matt and children Abby & Brandt. She loves a good board game, their Cavachon "Mabel," and their 3 family cats Squidward, Secret Agent Randy Beans, and Chief Terry McConky.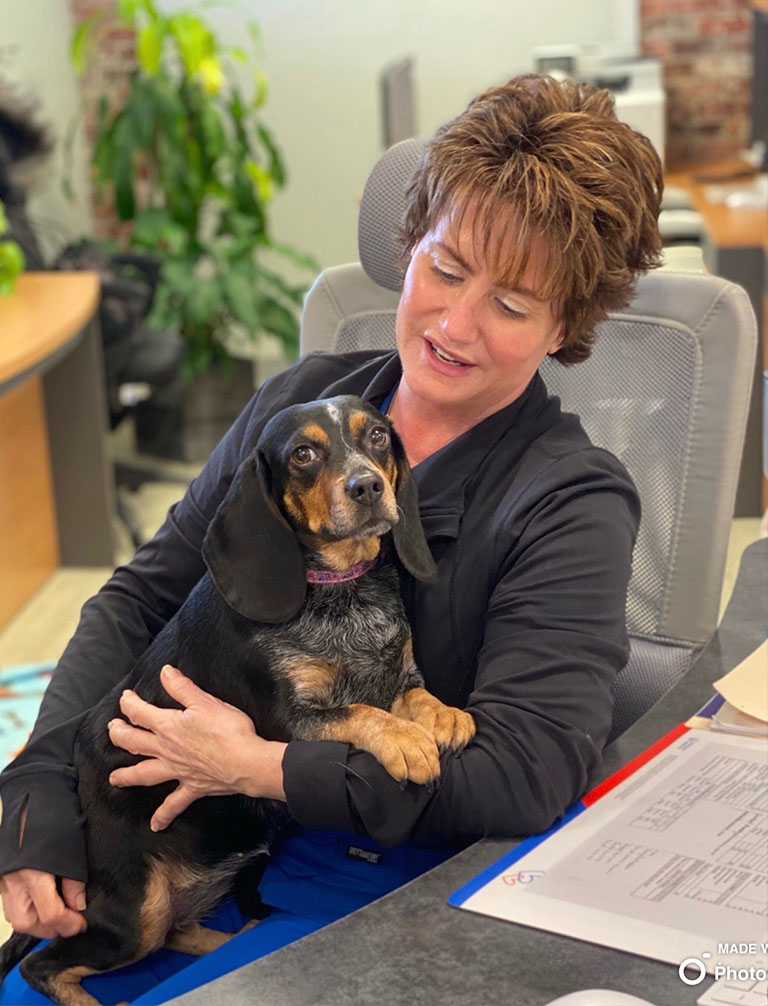 Lyn
Lead Client Coordinator
Lyn is our Lead Client Coordinator at Westgate Animal Clinic. She is originally from Houston, TX and graduated from North Texas University. When she is away from the clinic Lyn enjoys being outdoors, gardening, and working out. She is married and has 3 girls, a Goldendoodle named Sully, and 2 cats (Archie and Moxie).
Amanda
Veterinary Technician
Amanda is from Papillion, NE and graduated from Iowa Western in 2016 with an Associates in Applied Science. She loves communicating with clients and has an interest in surgeries here at the Clinic. In her free time, Amanda enjoys camping, fishing, and being with family. Her family consists of her husband, Ryan, their son, Colton, and a Border Collie named Ewen.
Sarah
Veterinary Technician
Sarah is originally from Omaha, NE and graduated in 2001 before joining us at Westgate Animal Clinic. She enjoys cooking and baking, crafts, being outdoors, and dancing. She is married and has 3 girls and 1 boy (Shelby, Avery, Allison, and Cole) and 2 dogs (Skylar, a Puggle, and Amber, a Beagle Mix)).
Bre
Veterinary Technician
Bre is native to Omaha and went to Iowa Western. Her special interests in the veterinary field include dentistry, clinical pathology, and surgery. When she is not helping animals, she enjoys traveling, spending time with her niece, and doing outdoor activities such as golf. Her furry family includes Josie Bear, a Maltese & Shih Tzu mix, and Abby, an Australian & Lab mix.
Jeanne
Veterinary Technician
Jeanne graduated from Iowa Western. Her interests include baking, cooking, crafting, camping, and spending time with family. She and her husband are proud owners of two mini Australian Shepherds named Ozzie and Wally.
Kelani
Tech Assistant
Kelani is a Veterinary Assistant here at Westgate Animal Clinic. She was born and raised in Omaha, Nebraska. She currently attends school at the University of Nebraska – Omaha pursuing a career in Veterinary Medicine. She enjoys spending time outdoors. Her special interests include monitoring and prepping for surgery. She currently has 2 cats, Alice and Zen and a Golden Retriever mixed dog named Pippin.
Amy
Assistant
Amy hails from the charming city of Omaha, Nebraska, where she was born and raised. After completing her education, she graduated from South High School in 2004. Amy has always had a penchant for creativity, with special interests lying in crafts and baking, which she pursues passionately during her leisure time.
In her personal life, Amy is happily married. But her joy doesn't end there, as her home is also enriched by the presence of her beloved pets. Frannie, a charming Siamese cat, shares cuddles and purrs with her, while Nova, a loyal Doberman, stands guard and provides unconditional love. Pixie, a delightful Dachshund/Chihuahua mix, adds a touch of playfulness to the mix. And not to forget, Liah and Taila, two lovely Ragdoll cats, grace her home with their elegant presence.
With her caring nature and diverse interests, Amy is ever ready to lend a helping hand and make the world a better place for everyone she encounters.
Jolie
Receptionist, and Assistant
Jolie is a Receptionist, and Assistant from Omaha, NE. She is currently in school at the University of Nebraska – Omaha pursuing a career in Veterinarian Medicine. In her free time, Jolie enjoys spending time outdoors, reading, traveling, and spending time with her friends and family. She adores her dog Benny, a Boxer.
Jennifer
Receptionist, and Assistant
Jennifer is a Receptionist, and Assistant from Papillion, NE. She attended Winward Community College in Kaneohe, HI earning her certificate of achievement in Veterinary Assisting in 2015. In her free time, Jennifer enjoys hiking, reading, interior design, baking, traveling, and hanging out with her friends and family. She loves her Siberian Husky Kona, Siamese Cat Coconut, and Blood Python Murphy.
Bennet
Receptionist
Bennet is a receptionist at Westgate Animal Clinic who was born and raised in Omaha, Nebraska. When he isn't working, he enjoys playing with his cat Wrex, hiking with his Beagle/Terrier mix Valentine, doing absolutely nothing with his tiger salamander Yoshi, watching movies, and playing video games with friends.
AJ
Receptionist
AJ was born in Omaha Nebraska. AJ has a BS degree-Biomedical Sciences from Northwest Missouri State
University. AJ enjoys drawing ,playing TTRPGs ,and playing with Radagast (Mini Rex
Rabbit) and Libby (Husky Mix).